Joined

Feb 27, 2016
Messages

1,423
Reaction score

1,782
Location
Did anyone see the email this week from Mojotone stating they have added a late 70s JMP 50 watt kit to their lineup? I wonder how it is different from their JCM 800 kit?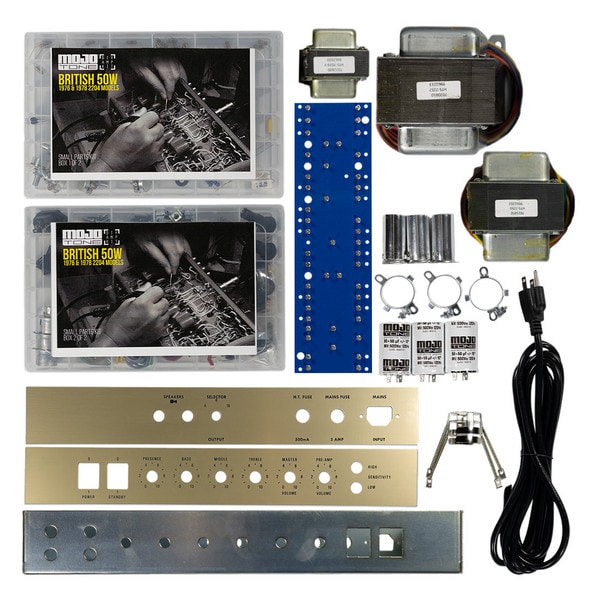 Kit Build Difficulty:EasyDifficultIf this kit shows as out of stock please check here for more information.Please read our article 'Mojotone Amp Kit Building Primer' along with our amp kit disclaimer located in the Specs tab before buying this kit.Ever heard of a guitarist named Randy Rhoads? Or...

www.mojotone.com
Ever heard of a guitarist named Randy Rhoads? Or how about the Young brothers from a little band called AC/DC? They are just some of the artists that come to mind who used the late 70's JMP 2204.

In the mid-seventies, rock artists wanted a bit more gain and a lot more power from their stage amplifiers. In response, Jim Marshall and crew developed the master volume function, added it to their plexi platform, and released the new circuit as the JMP 2203 and 2204 models. With this new feature, the artist could crank the amplitude of the preamp output as they would with earlier, non-master models, to get an exciting distorted breakup of the signal. Then, they could adjust the overall output level to the speakers using the master volume control so that it sat nicely in the mix with the rest of the band. From there, we experienced a total overhaul of the rock and roll sound. Bands got heavier, and the solo leads soared higher than ever.

We are happy to add the 50 Watt version (2204) to our British series kit lineup. We had the opportunity to study an example from 1979 to create the near-replica chassis and head shell. For transformers and choke, we offer the same tried and true units from our British 50W 800 kit. The big difference between our kit and the original is the use of an old-school turret board instead of the printed circuit board that Marshall had employed. We think this will offer more fun and future serviceability to the build.

As with all of our amplifier kits, we supply you with the best electronic components available. You will see Mojo Dijon polypropylene capacitors, Mojotone high-voltage can style filtering capacitors, carbon film resistors, Belton brand tube sockets, Alpha potentiometers, 20 gauge topcoat PVC wire, and more.

As a bonus, we supply everything needed to build either the 1976-1978 2204 which is more of a hybrid between the earlier plexi and later JCM800 circuits, or the 1978-1980 2204 which features a bit more gain akin to the JCM 800 era. Which one you build is up to you and your tastes.